Monthly Archives:
April 2013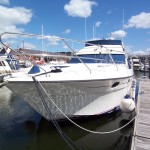 This Princess 415 has just dropped in price, in absolutely superb condition with overhauled engines, recent radar & cover upgrades among other improvements this Princess makes a great purchase for anyone looking for a impressive, spacious and well maintained boat. Was £96,000 NOW ONLY £87,500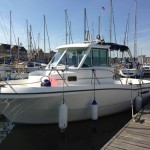 We are pleased to be able to offer to the market this good condition Beneteau Antares 620, with the popular Nanni 85HP inboard option this boat is a true fishing machine, a spacious deck and plenty of rod racks mean she is well equipped and ready to go. To arrange a viewing or if […]
Check out our new listings this month:- Bayliner 175 https://www.networkyachtbrokers.com/boats_for_sale/Bayliner_175-1919700.html/
New Management at Network Yacht Brokers Lymington
We are pleased to announce the reopening of the Lymington Branch of Network Yacht Brokers. The new management team of Howard and Carol Ross are very excited about this opportunity and are looking forward to working hard to bring buyers and sellers together . Howard joined Carol's marine company , Breeze Sports Ltd. 10 years […]
Alma is a nicely presented Mg Contessa 27  built in  1996 by Northshore yachts. The Rob Humphreys design gives an easily handled cruising yacht with great performance and the innovative Tandem wing keel results in less heeling and faster performance. With the added advantage of a shallow draft taking Alma into places that other yachts […]
Due to excellent sales in recent months, we need more quality boats to offer our customers. As professional brokers, our objective is the same as yours;  to sell your boat as soon as possible for the best market price. We can give your vessel wide coverage in the UK and maximum exposure to the […]
MG Contessa 27 Family cruiser or club racer Whatever you want her to be.
Alma is a nicely presented Mg Contessa 27 built in 1996 by Northshore yachts. The Rob Humphreys design gives an easily handled cruising yacht with great performance and the innovative Tandem wing keel results in less heeling and faster performance. With the added advantage of a shallow draft taking Alma into places that other yachts […]
Due to excellent sales in recent months, we need more quality boats to offer our customers. As professional brokers, our objective is the same as yours;  to sell your boat as soon as possible for the best market price. We can give your vessel wide coverage in the UK and maximum exposure to the […]
Westerly GK29 gets lifted onto road transport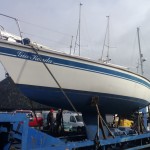 The Westerly GK29 we have had for sale offers a great cruising platform and was well maintained with a good inventory. This yacht was really popular with us and generated a lot of interest, we would encourage anybody with one of these  or anything similar thinking about selling it to list it on brokerage now with your local NYB […]
We are pleased to announce the reopening of the Lymington Branch of Network Yacht Brokers. The new management team of Howard and Carol Ross are very excited about this opportunity and  are looking forward to working hard to bring buyers and sellers together . Howard joined Carol's marine company , Breeze Sports Ltd. 10 years […]