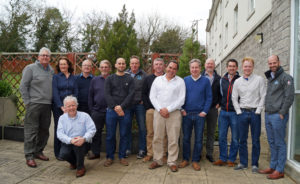 Network Yacht Brokers are Marina based Profesional Yacht Brokers. As leading European Brokers, we have access to hundreds of "Boats for Sale" in over twenty-five marina locations in the UK and Europe. Our Marina based brokers are in direct contact with boat owners. Many offices are open seven days a week.
We have the knowledge and experience to help you
Each Network Yacht Broker office is independently owned and managed. We have the knowledge, experience, and commitment to deliver our customers' highest service level. Our professional dedication sets us apart from internet-based yacht Brokers," who often remain anonymous behind a computer desk.
Network Yacht Brokers share boats using a CRM system called Helm
Our websites use cutting edge technologies that allow potential buyers to find the exact boat they are looking for quickly and simply. Our Brokers share boats using a CRM system called Helm. This online tool is only available to Network Yacht Brokers. Helm allows Network Yacht Brokers to manage listing from any PC or mobile device and keep you fully updated with sales progress.
We track boats for sale from start to finish.
Helm tracks our sales from start to finish keeping a timeline log of communication between Yacht Broker, buyer and seller.
We advertise on many web platforms, including the Yacht Market, Yacht World, Boats.com, Boat Shop 24, Apolloduck, Scan Boat, You Boat, Cosas De Barcos and many more websites connecting you with premium buyers from around the world.
The internet will never replace a professional Yacht Broker
We recognise the internet has become the place to shop for a Boat or Yacht. Changes in marketing from traditional magazine marketing have enabled our clients to be far better informed about price and boat specification details. The "Web" has changed how our industry operates; however, the internet will never replace a professional Yacht Broker. Our industry thrives on relationships that often start in a marina yacht brokerage.
Network Yacht Brokers – more than just boats for sale
All Network Yacht Brokers operate on a "No Sales No Fee" basis. What does that mean? You can put a boat or yacht for sale, have it valued, photographed and looked over by a Network Yacht Broker for free. We will even pay to advertise your motorboat or yacht. You might be interested to know a Network Yacht Brokers free valuation service does not always end up with us trying to sell your boat. Your Network Yacht Broker is always willing to give free advice on all aspects of owning a yacht.