New Management at Network Yacht Brokers Lymington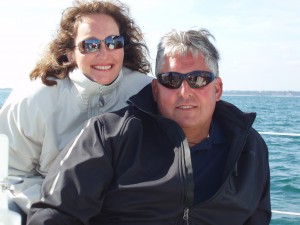 We are pleased to announce the reopening of the Lymington Branch of Network Yacht Brokers.
The new management team of Howard and Carol Ross are very excited about this opportunity and are looking forward to working hard to bring buyers and sellers together .
Howard joined Carol's marine company , Breeze Sports Ltd. 10 years ago after a career in sales and marketing positions with major IT providers. Breeze Sports are well known for providing top quality European brands of marine clothing such as Prorainer , Gotop, and Jeantex.
Both are experience marine industry professionals , with the added enthusiasm for the industry due to a lifetime on the water.
Both Howard and Carol are extremely experienced in customer service roles and Howard has worked for 20 years in Web IT marketing positions.
The Lymington Office will bring the number of Network Yacht Broker offices up to 11 with more to come this this year. We are both looking forward to taking part in the growth of the group and know that this expansion will benefit all our buyers and sellers.
LYMINGTON'S NETWORK YACHT BROKERAGE offers a range of services including BROKERAGE, FINANCE and INSURANCE. The Lymington based office serves the the West SOLENT areas of Lymington, Beaulieu, Yarmouth, Keyhaven, New Forrest and Christchurch.
Network Yacht Brokers Group has a highly successful track record of yacht and power boat sales It is the UK 's longest established group of independent yacht brokers.
At any one time Network Yacht Brokers has over 450 boats listed for sale. New listings and buyers are added to our database daily.
Network Yacht Brokers Lymington work harder to bring buyers and sellers together.