Sealine SC29 – Owner's Remarks
I have owned my Sealine SC29 "Tinky" for almost 5 years now. During that time I been extremely pleased with Tinky in every way.
When I was looking to buy a boat, I was looking for a diesel powered 30 foot twin-engine sports cruiser mainly for leisure use which would be comfortable enough to stay on for more than a weekend. It was important that the boat had great handling ability and security at sea and was a very comfortable and sociable boat when berthed in the marina.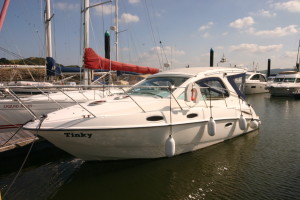 Tinky has lived up to and has exceeded these requirements. The view from the helm is excellent and the handling is superb. The Volvo D3 – 190 engines are extremely smooth and responsive. The SC 29 is very easy to manoeuvre due to having both a bow thruster and a stern thruster which gives me a lot of confidence when approaching docking in the marina in tight or awkward situations. A very useful advantage is that both the bow thruster and the stern thruster can be remote-controlled so one can activate either or both of the thrusters using the hand held remote control unit without necessarily having to be behind the wheel. This makes single handed berthing very simple and stress free.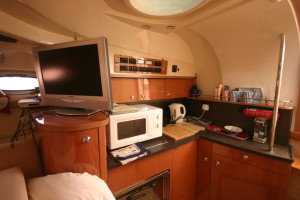 On board Tinky is simply superb. Sealine as a brand is well known for their quality of build and their luxurious finish. The seats are very comfortable and supportive and the cockpit seating easily converts into a large and comfortable sunbed. The Sealine SC29 is a very sociable boat. The galley has been very well-planned and there is a lot of equipment installed together with an excellent cooker with grill and two generous fridges – one in the galley and one in the cockpit saloon.
When stopping on board Tinky, the creature comforts are second to none – ranging from diesel fired central heating to generous sleeping accommodation with plenty of cupboard space which belies its 30 foot size. An ensuite washroom/head with shower completes the luxurious accommodation.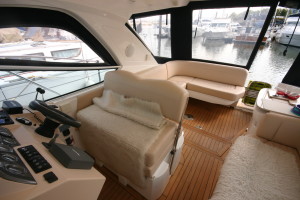 I've used Tinky exclusively for cruising in North Wales. Cruising in North Wales is fantastic with marvellous views. One of our favourite places for cruising is to take a leisurely path from Conwy Quays Marina around the Great Orme, past the Little Orme towards Llandudno and eventually to anchor up in Colwyn Bay. We really love this route as it combines dramatic and stunning scenery together with the peace and quiet which is often associated with cruising in North Wales and Anglesey. Conwy Quays Marina offers a unique blend of fantastic views and abundance of natural wildlife in a friendly and unassuming atmosphere rarely found elsewhere.
With light use and low engine hours this Sealine SC29 is a really superb boat in excellent condition. The only reason why I am selling Tinky is that I simply do not have enough time to sail her – the low engine hours being evidence of this. I am open to sensible offers on the asking price.
For more info click here or come and visit Network Yacht Brokers Conwy on the Conwy Marina.