Jeanneau Merry Fisher 855
Just arrived in stock for the 2016 model year that starts in August, we are delighted to invite you to come and see the amazing Jeanneau Merry Fisher 855. This Offshore Sports Cruiser is built for the next generation of Motor Boating. Gone are the diesel engines in the under 30 footers, replaced with outboard motor units. Go and see our stock boat specification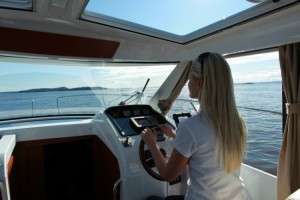 It takes a little thinking about, the change from inboard diesel to outboard petrol, and we were reluctant to accept the change at first. But this move away from diesel to petrol makes perfect sense when you consider the facts.They are mostly because the modern outboard has become incredible fuel efficient and super reliable. When questioned about the use of an outboard I often say to customers, "when was the last time you lifted the bonnet in your car"? The answer almost always comes back as never. Well that's exactly how outboard technology has moved on in line with the automotive industry. Then you have the added advantage of storage space, as without an outboard engine it frees up a large locker in the cockpit. Add to this the benefit of speed, noise and cost, one starts to see the logic, especially as diesel becomes more expensive than petrol. Finally, and I believe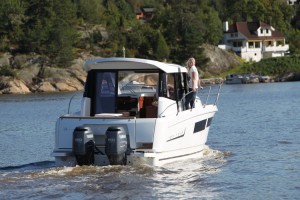 a much under played advantage, especially if you using your boat as a Weekender, is that when you are finished with the boat you simply lift the engine out of the water and that's it; No more corrosion to your engine and propellor.
The Jeanneau Merry Fisher 855 has a twin engine installation and that's not a common site yet on boats. we are predicting it will catch on and in the coming years it will be the norm on leisure craft.

Like our Network Yacht Brokers Conwy Facebook page for more exiting news.