Jeanneau 349 Yacht Syndicate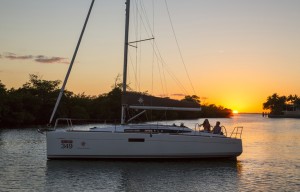 Another two Jeanneau Sun Odyssey 349 Yachts will be arriving at Conwy Marina in early March for the 2015 season. One of the yachts is destined for the new Jeanneau syndicate set up by Network Yacht Brokers Conwy. Yacht Syndicates are nothing new, people have been sharing boats for many years, as the cost of purchasing your own Yacht or Motor Boat can often be prohibitive. Shared ownership works well for individuals who have busy lives and are likely to still be working. About ten years ago the Network Team set up a yacht syndicate on a Bavaria 36 called My Tern. This syndicate is still running today, ownership of shares have changed hands many times and we are delighted to have been asked to handle the disposal of shares for all the syndicate members.
The syndicate did take some time to find its feet and Network Yacht Brokers Conwy supported a couple of shares for the first year until owners and shareholders were found. This time around we expect to be doing the same, supporting the syndicate for a year or so until things settle down. Our Tern will be based at Conwy Marina, She will be available for viewing by appointment and for interested parties test sails can be arranged. If your interested in this kind of yacht ownership and want to know more come and talk to us at Network Yacht Brokers Conwy. For more information click here.