Corby 25 – Fresh to the Market
New to the Market! Corby 25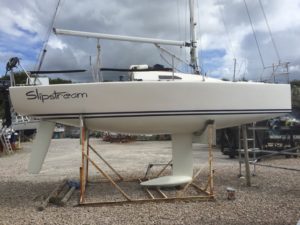 This Corby 25 gives someone the superb opportunity to get yourself to the front of any racing fleet! The Corby 25 has such a great pedigree and has a fantastic race record throughout the years. The Corby 25 performance racer has a number of tittles under its belt.  There is no reason why this particular boat cant add to that history of winners!
This would be a perfect intro boat for a group of sailors whose wife's wont let them spend vast amounts of money. Why not buy it as a conglomerate and share the very low running costs and have hours of fun out on the racecourse!
The boat is in excellent condition and has been upgraded over the last two seasons. The most recent editions are the No 1 & No 3 Jibs from Technique Voile 2016. A new battery bank 2015, running & standing rigging replacement, as well as a new engine in 2013.