Classic yacht – Whitehorse 38- "Rebecca"
A classic yacht "Rebecca" previously known as "Whinfell" is the last remaining Whitehorse 38 yacht available.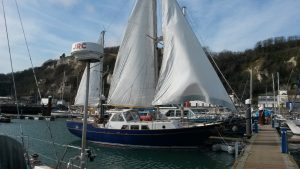 This ketch rigged Whitehorse 38 yacht built by White Horse Marine in Cumbria was due to go into full production but because of the Suez crisis back in 1974 never made it due to the fact that White Horse Marine could not purchase the oil products required to make fibreglass copies from the plugs.
The only other yacht made from the plug apparently hit a buoy and was sunk.  "Whinfell" now "Rebecca" was transported across the smallest bridge in Cumbria and made news headlines at the time. This yacht has been lovingly careful and is now being offered for sale by her owner.
Full details of the yacht can be found at the following link and a short video to show her condition can be seen on our Network Yacht Brokers Kent YouTube channel by clicking the following link. A 2018 survey report is also available upon request. This yacht would make an ideal liveaboard yacht with a great aft double cabin.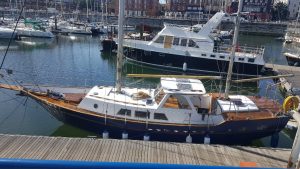 This is a rare opportunity to buy not only a great yacht but also a bit of great British nautical history.
To arrange a viewing give us a call on +44 (0)1634 571605