Network Yacht Brokers Lefkas Sail into new office
The team at Network Yacht Brokers  Lefkas are very pleased to announce that we are now able to welcome Network's clients into our brand new sales office at Cleopatra Marina, Aktio, Preveza, Greece
The office is located right on the Dock Side between Cleopatra Marina and Ionion Marine.
We are within a few metres of the three marinas and midway between Cleopatra Marina and Ionion Marine. This prime location lies conveniently in the heart of the Ionian sailing community. We are 5 minutes away from Preveza/Atktio airport, and 15 minutes from Lefkas, Greece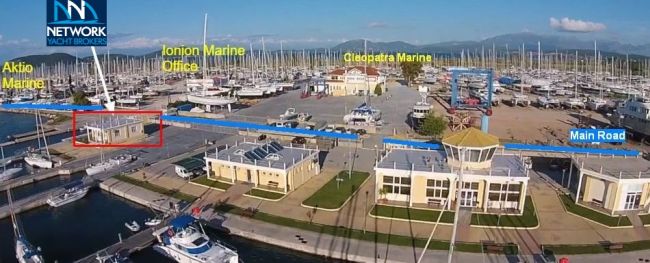 The marina and yards at Aktio-Preveza have grown substantially in recent years and currently provide a full range of services for the thousands of sailors basing their yachts in the area. As well as the full range of yachting services on site, easy access to Preveza and Lefkas, close to airport at Preveza and also connections to Corfu if needed.
We have found that most of our clients selling their boats choose one of the three yards at Aktio. Boats are mostly ashore in cradles and easy to inspect.
For buyers – 90% of our listings.and over 2,000 yachts wintered on our doorstep.
Network's contact details all remain the same: except for new office number
0030 26828 88015


Email info@nyblefkas.com
The door is always open to friends and customers, both old and new.