Dufour 34 Performance For Sale – SOLD
Dufour 34 Performance Available now here at NYB Plymouth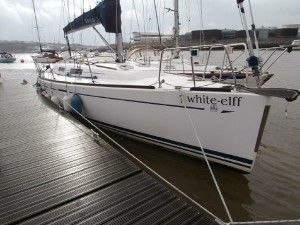 This Dufour 34 Performance is the ideal fast cruiser, she is not an out and out race boat that the Performance side might suggest.
The Dufour 34 Performance is very popular with couples looking to do some short handed cruising, the yacht sails very well and will give you excellent passage times.
All controls are adjusted from the cockpit and the helm can control both the main and genoa from the helm position, the genoa winches are within reaching distance from the very comfortable helmsman's position.
The Dufour 34 Performance is comfortable as a coastal cruiser and crossing channels, she handles well in all conditions and was a very successful model that came from the Dufour factory in La Rochelle.
This Dufour 34 Performance is currently on the hard standing and ready to view.
If you are searching for a Dufour 34 Performance then you should certainly view this yacht.
Contact our sales office on 01752 605377
Follow the link to the full spec: https://www.networkyachtbrokers.com/boats_for_sale/Dufour_34_Performance-171322.html/