Aquastar 45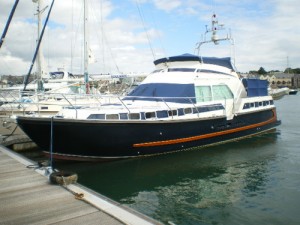 What better way to spend the summer months than on board the Aquastar 45.  This truly is a luxurious motor yacht built to high specifications by Aquastar.  It is a true mini ship.  Its high specs, outstanding accommodation and exceptional seaworthiness make this it's a perfect boat for discerning sailors.
This magnificent boat is 45 ft in length and 15ft in the beam.  The interior salon has ample space with extremely comfortable ivory leather upholstery seating and huge windows to enjoy the stunning panoramic views.   Whether you wish to travel on the large aft deck or the fly bridge you will certainly have enough space to enjoy your beautiful surroundings.
The gallery is fully stocked with 2 refrigerators, fan oven, microwave oven, gas hob and portable freezer box.
Powered by 2 huge Caterpillar 3126 diesel engines the Aquastar 45 is capable of speeds up to 24knots; however most people prefer to cruise at a leisurely pace taking in the stunning views of the uk coastline.