Sealine SC47 Sports motor yacht – Just reduced!
Sealine SC47 Sports Motor Yacht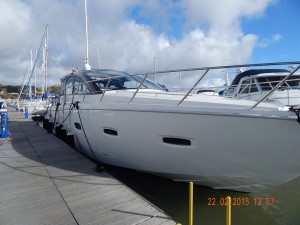 Reduced in price, this splendid Sports Motor Yacht is a real snip at only £265,000.  Built in 2010 and equipped to an amazing specification she benefits from an enormous sunroof canopy that virtually transforms the boat into an open Sports Cruiser. Equipped with IPS drive systems she has a real turn of speed but is big enough to ensure your guests all stay comfortable.
A Sealine base in the midlands for many years was an Iconic British Motor Yacht Cruiser brand with models from 25 feet to almost 60 feet.  Unfortunately Sealine stopped trading for a short time in 2012 before being purchased by the German company Hanse, who plan to make much bigger Sealine Motor Boats in the future.  Sadly the Sealine brand is longer British but the name is set to continue for many years to come.
This is an opportunity to purchase one of the last Sealine SC47 Sports Motor Yachts build by Sealine in the UK before they succumb to the economic downturn brought on by the world wide banking crisis that started in 2008.
The Sealine SC47 was one of the first boats to be fitted with revolutionary IPS systems. This drive system was developed on much larger ships before being adapted to leisure craft. It's basic idea being one that creates a much more powerful power output from the prolusion system as the propeller's are sited well forward of the usual position just below the transom.  IPS is similar to having a 4 wheel drive set up on a motor vehicle. The propeller's being so deep in the water suffer from very little cavitation and therefore give a much better grip on take off.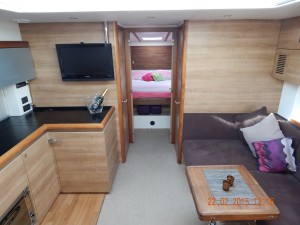 Viewings are welcome on this stunning Sealine SC47 lay in Conwy Marina. See the full specification here. 
For more information contact the Network Yacht Brokers Conwy sales team.