What type of boat to buy?
Before you start thinking about buying a brokerage boat, or indeed a second hand boat from anyone, getting to grips with the basic rules of engagement will help you make the right choice.  A question I ask a lot of individuals who come into our office in Conwy is this. What do you want your boat to do? Is it for staying on over weekends, fishing, sailing? Or perhaps its a place to live permanently because you decided to get out of the rat race? Whatever the reason for getting into boating you should have a good idea of your aims before you start looking for a boat.
The next question is one of budget. So many times people put themselves off by looking at boats they simply cannot afford. Its great to visit boat shows and make a B line for the biggest and best boat at the show, but if your seriously looking to buy this is not a good strategy. My advice would be if you know you're only dreaming then keep on dreaming and enjoy boat shows for what they are. If you are at the stage where you could buy a boat (new or old) then do set a budget. This will help you keep things in perspective, it will also stop you looking at boats you simply cannot afford, after which you would not consider getting a smaller boat or yacht.
Where to start looking
Having got the boats out of your system that you cannot afford, and assuming you have been to a couple of boat shows, the best place to find a new boat would be at a Yacht Brokerage. Hopefully this document will help you understand the advantage of using a Yacht Broker rather than just trawling the small ads on the net and buying something that you wish you hadn't. A decent Yacht Broker will be associated to others as we are in Network Yacht Brokers. We are a large number of individual companies who link resources in order to find and sell boats. We meet once a quarter face to face around a table and discuss the industry, set our marketing budgets and settle any disputes. A basic principle of being a Network Yacht Broker is one of customer service.  All our brokers are based within walking distance from a large number of boats, the majority of brokers will be marina based as we are at Conwy Marina North Wales . Although we work along side each other passing boat buyers from office to office we are individual companies. For the buyer this service is free. The seller pays a commission (often split between one or more brokers for the introduction)
Don't send any money
The alternative to using a yacht broker is you can use the services of the internet. Some private individuals do sell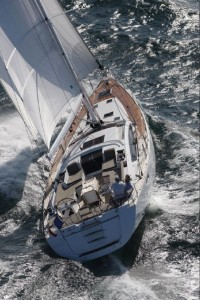 boats on the net and quite successfully so, however we are increasingly hearing of nightmare situations where buyers have sent deposits only to be gazumped by another buyer who offered a private owner a few pounds more. Even worse we have recently had a number of individuals report having sent deposits and lost them because of a very well thought through scam.
Obviously we would say you should use a yacht brokers to buy your vessel, but as the service is free to the buyer I cannot see why one would not employ a broker to conduct the purchase. Some brokers including ourselves will for a nominal fee act as broker between private sales where a boat is not listed with the broker, so the purchaser pays for the service. The broker will draw up contracts and inspect title paperwork guiding a buyer through the process of purchase. So if you see a boat or yacht for sale and want a broker to handle it don't be afraid to ask for assistance.
Network Yacht Brokers Conwy are actively looking for boats and yachts for our clients all over Europe.  In early 2015 the pound gained strength against the euro which effectively ended the mass export of boats and yachts to northern Europe. Moving forward it is expected that boats over a certain value will be imported to the UK as the currency differential would cover the transport costs. A broker is often more likely to get a straight answer from a seller if he knows he is talking to someone from the trade.
Use a surveyor
When you have found your dream boat or yacht one could be tempted to go ahead and pay the money and take your chance. Boats are not like cars, few are worn out and sellers often use the ploy of insisting the boat hasn't been used and so its just as good as when they bought it. Most owners believe this to be how it is. The fact is that could not be further from the truth. Its possible to take a boat out of the water and put it into long term winter storage but most sellers simply give up on a boat by the time they get around to selling it or haven't been able to afford the upkeep. So using a surveyor will add a little to the buying price of your boat or yacht but you will have peace of mind that if the surveyor misses something he will have insurance that covers the unlikely event that you have problems in the future.
Getting the right paperwork
For boats or yachts with a value of over £25,000.00 that started life in the UK having the correct paperwork  is becoming essential. As yacht brokers we spend a fair deal of our time chasing around finding paperwork for owners who want to get finance on their boat. Its virtually impossible to get finance on a boat or yacht that hasn't got the following paperwork.
Original builders certificate
MCA bill of sale from each owner following on from the builders certificate. It being perfectly acceptable that the bill of sale has only one pound and all other considerations on it as this document is a title transfer and not a statement of value.
V.A.T. invoice to the first end user.
Where documents are not correct it is possible in some cases to obtain declarations but its not ideal. We have a seperate page dealing with this.
If you have everything in place then the purchase can go ahead. However buying a used boat or yacht can be  a minefield and many scenarios have not been dealt with within this document. The most important being the law surrounding a private purchase. Remember if your buying from an individual its buyer beware.
Buying a new boat
this can be a simpler but more expensive option, new boats or yachts come with all the usual warranties. If you would like to brows the Jeanneau range of boats please follow this link www.nybconwy.co.uk