38ft Avon Brunel Live Aboard Yacht Project
What the owner says about his yacht
We needed a solid Yacht for live aboard initially with a good engine that had very little use and had very little ware, to install our latest patented invention fuel device, that would double the hours per litre. We were supposedly being backed and assisted by Chester University, who were providing us with under cover space and some financial help. I was to provide students with some of my 50 years + boat fitting skills. Having been retired for over 15 years, also wanted a suitable craft to sail back down to the Mediterranean and enjoy my remaining time aboard this planet.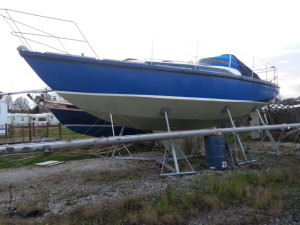 We spent quite a bit of time travelling the country, and eventually found Miscin, a 38ft very solid and capable of being sailed single handed and was a very heavily constructed steel boat which had been professionally built by Avon Brunel, and part fitted out for entry into the OSTAR single handed Atlantic race, by the owner, on his return from the race then had the inside (partially) fitted out for cruising by E.Green Ltd. He then (for whatever reason), laid it up in a dry barn where it lay for over 25 years.
We then bought the boat as it had an excellent very low use well installed 30 hp Yanmar which was ideal for our proof of concept installation. Shortly after the purchase, Chester Uni, informed us that they were unable to continue with their offer due to a change in Government funding strategy, the boat at this time was having the hull grit blasted back to bare metal and the hull protected with a special 2 pack paint with 2 pack top coat. We then had to find a suitable place to bring the boat to complete to my standard, for my own use eventually.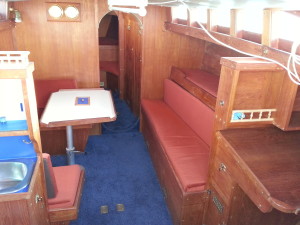 During this period my co-inventor and engineer had a bad heart attack and a triple bypass which laid him up for best part of the year. A part of the deal we had, was that I would fit the boat out, and he install the prototype (I had a boat outfitting company for many years before retiring in 2005), when all was completed, I would then sell my own small boat and buy out his ½ share, I set about making it into a safe and comfortable 'blue water' comfortable 'home' to enjoy what time I had left.
I am the sort of person that has a 40 year old mind with a 76 year old body, so the past couple of years of hard work bringing the boat to a good standard for myself, has taken its toll, I have had to come to the conclusion that my plans to do the few final finishing off jobs and sail it down to the Mediterranean are not going to happen, so therefore have to pass on this excellent opportunity at a very low incomplete price. So if you are looking for a very cheap, strong and comfortable shorthanded roomy live aboard boat that will go anywhere, here it is…for the right person.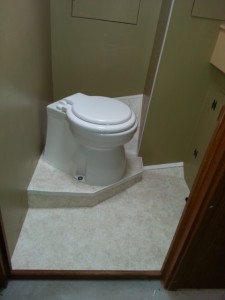 The previous owner took quite a bit of equipment off the boat during the sale and moving process, he eventually provided a quite extensive inventory, but has yet to provide the anchor and chain along with the anchor winch. Other than this there is very little to do otherwise to launch and make the boat useable for living comfortably aboard. Some of the instrumentation where taken and may have to be replaced. The jobs to complete are;- cooker gimballing, otherwise there's nothing to buy other than antifouling. There's a comprehensive sail and rope wardrobe, and the mast is comprehensively rigged. I was going to renew the windows, but this is choice only.
It is currently stored in caravan storage, with use of workshop facilities. I am quite prepared to help with anything I am still capable of, as I would love to see this wonderful boat in commission, and provide a new owner with much pleasurable use.
I can say this, if I were 10 years younger, nobody would be able to drag this fine craft from me.
Please click here for the Avon Brunel live aboard specifcation.