Dufour 310 Grand Large Yachting Monthly Test Sail
Dufour 310 Grand Large soon to be in an addition of Yachting Monthly!
Network Yacht Sales have had the privilege of hosting Yachting Monthly's Graham Snook recently, to have a test sail on our exciting stock Dufour 310 Grand Large.
We were blessed with excellent conditions with up to 30 knots of breeze and sunshine outside of Plymouth breakwater, the Dufour 310 Grand Large performed excellently, we had one reef in the main and she handled superbly at all points of sail.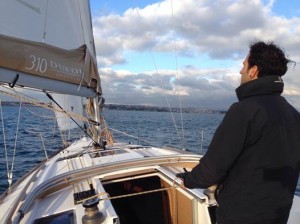 For anybody interested in the Dufour brand we are holding viewings on the Dufour 310 Grand Large imminently, if this model is not for you but would like to come and see the quality that Dufour provide, then please feel free to call our sales office and make arrangements to come and chat to our friendly sales staff.
01752 605377