Beneteau 311 Clipper
Owner's Comments
We bought Joie de Vivre, our Beneteau 311 Oceanis Clipper in October 2007. We were looking for a comfortable cruiser racer that was well equipped, with the ability for all round cruising in the picturesque waters of North Wales. The lifting keel is much admired by our fellow North Wales Cruising Club members due to the advantage of cruising safely in shallow waters through simply winding up the keel. This gives a draught of only 0.84 metres.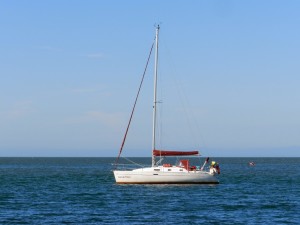 Throughout our ownership she has proved to be a reliable yacht under both sail and motor and we have enjoyed many happy trips around Anglesey, north and south of Conwy and over the Irish Sea to the Isle of Man and Ireland.
When we were looking for a boat, we were looking for something that was upwards of 30ft long that was comfortable for two people to live on and sail but had the space to accommodate more when the need arose.
Joie de Vivre's appearance with the attractive burgundy trim on her topsides with a yellow highlight and matching burgundy canvas gives her a bright and fresh look complimented by the burgundy 'Joie de Vivre' written on her bow and dodgers.
Under sail, her rig gives her a good turn of speed due to the racing designed Figarot hull in comparison to many similar sized yachts which means she can easily eat up the miles while making a passage. She is as good in light airs as well as in a bit of a blow, the single line reefing being led aft to the cockpit for quick and easy sail changes.
Joie de Vivre has a smart full cockpit cover. Easily erected in under 10 minutes, the covered cockpit gives the benefit of an extra 'room' from which to enjoy activities and sites around the boat come rain or shine.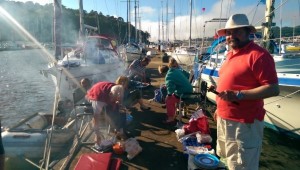 All control lines lead back to the cockpit and with a wheel pilot and navigation aids, she can be easily sailed (as has been) by one person. She has performed extremely well in windy and choppy seas, always making the crew feel safe comfortable and well protected from the sea and adverse weather.
The wheel steering with twin rudders gives the person on the helm a good view and she is easy to handle close quarters. The 18hp Yanmar 2GM20 engine gives her good steerage both forward and in reverse. The engine has been regularly serviced and is easy to maintain with a little experience of marine diesel engines.
Joie de Vivre's two cabin layout provides comfortable accommodation for up to six people, two couples/crew in the fore and aft cabins and two on the long settees in the saloon. The galley is well equipped with an upgraded gas cooker and fridge. We have provided a number of gourmet meals for 6 passengers; it is really amazing what you can do with a twin hob, grill and oven with a little planning and ingenuity. She is very comfortable to entertain up to eight guests (and we have) with the bench seating in the saloon and large centre table providing ample space for drinks and games. The main saloon and aft cabin have vents from the highly effective Ardic system.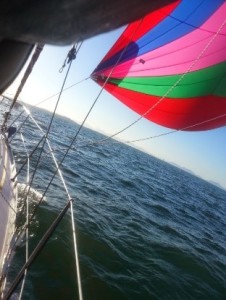 Joie de Vivre has a good amount of storage for a yacht her size. On deck she has a gas locker, and a deep lazarette (locker) which has been used to store fenders, warps and various equipment needed whilst on passage. This also houses the fuel and holding tank. A dingy with matching canvas bag is carried forward of the cockpit cover and the outboard engine has a bracket on the aft rail. In the saloon, there is plenty of stowage under and behind the seats as well as in lockers around the cabins.
Our reason for this reluctant sale is that we have decided to purchase a slightly larger yacht for our retirement which will allow us to explore further field and possibly even cross the pond! Joie de Vivre is a beautiful and much loved yacht who we have had so much fun with. Over the eight years we have had her she has been regularly maintained and updated including new standing rigging in 2014 with a new Furlex for the genoa and a full Ardic heater service in 2016. Joie de Vivre has certainly been the 'joy of our lives' and we hope someone else will see her beauty and have as much fun in her as we have had.
To find out more about this beautiful Beneteau 311 Clipper yacht "Joie de Vivre" click here