AMEL Super Maramu Yacht
If you are looking for an AMEL Yacht you can step on board and sail away, then this might just be what you are looking for. She is an AMEL Super Maramu, designed by Henri Amel & Jaques Carteau in 1993.
Everything on board is included
She represents a premier brand that has become a famous well-found globetrotter. We get some yachts listed for sale that will include everything, and he has got everything!
We spent some time below and could not help lingering over the impressive stack of charts covering many parts of the globe. Such is the inventory one might be able to simply set sail around the world in a short time after purchase.
Many lovely design features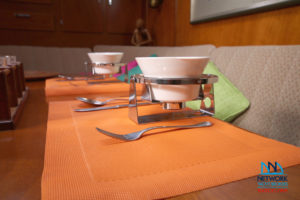 Some of the design features are unique on the AMEL, even down to the gamble on the food bows, and neat extension of the saloon table. We felt the saloon table extension to be what some modern yachts often lack. We also particularly liked the aft cabin, it is a reasonable distance from the saloon, and certainly gives an owner or skipper plenty of distance from the crew for contemplation should it be needed.
Everything below deck on this beautiful yacht is pleasing to the eye. The owner is leaving behind a lovely oil painting of Nice, France in the saloon. This along with the tastefully chosen fabric for reupholstery work done helps to give this AMEL Yacht an individual feel.
Up on deck
The running rigging was replaced in 2016, a welcome improvement to the current look of this yacht. While she was in Greece, we understand the engine was replaced and at the same time she underwent some extensive engineering works. We cannot write a blog about an AMEL Yacht without mentioning some of the other design features that when first introduced by Henri Amel were way ahead of there time.
An armchair like helm seat is an excellent bit of thoughtful design work. Positioned the Helm seat neatly could if you wished to be your place to perch all day, letting the sea miles slip gracefully under the hull.
The hard top offers almost complete shelter from the inevitable ocean spray that one will encounter during a long passage. Reefing this yacht is very easy as the main and forestay have electric motors positioned base.
This direct power reefing system is a design feature that has been replicated more recently on other brands. There are many different features that we haven't covered in this quick introductory blog. You can also read about the AMEL Yacht history on our manufacturer page. A full specification is also available if you follow this link.